About DogStars
DogStars History
In all its incarnations, DogStars has its roots through Georgina Bradley, who began on set training of animals for film and television in 1995. Her natural ability and intuition led her to becoming a professional dog trainer in 2000.
The Start of Something Big
DogStars began offering private training sessions for all kinds of clients, including obedience and acting training, through a network of veterinarians and satisfied customers. Word of mouth began to spread , and soon demand was higher than private sessions could possibly accommodate. DogStars evolved with the market, and began offering organized group puppy classes in 2002, in Vancouver, Burnaby and New Westminster.
From Students to Stars
DogStars had always offered private acting training for dogs and in 2002, an opportunity arose from a DogStars graduate 'Henry' a 8 month old Golden Retriever to appear in a Sony commercial. With Georgina training on set, the shoot was a success and the DogStars Talent Agency was born. DogStars began representing their own roster of personally trained animal talent and providing on set trainers for their stars.
Their Own Home
By 2003 it was clear that DogStars was exceeding all expectations. With more students than even group classes could handle, DogStars opened their own training centre in Vancouver and began offering all levels of dog training to the public. In addition to puppy classes, DogStars began offering two levels of group adult classes and a Star Training class for animal actors. Many of these star graduates began to form the body of the DogStars Talent Agency roster.
DogStars Training Academy
Both branches of DogStars, training and talent, continued to grow, with an advanced Star class added to the curriculum for those graduates looking to learn more complex acting behaviours. DogStars began mentoring Animal Behaviour students. Many of these students expressed interest in becoming certified dog trainers, and DogStars Training Academy grew to include human students by developing their own trainer program based on the reward, communication and animal safety philosophy of DogStars.
The Future
With the DogStar Talent Agency training and representing animal stars in such films as Air Buddies, 101 Dalmatians and Marmaduke, the possibilities are infinite for the Vancouver company. DogStars has grown from one woman with talent and a dream, to a training academy for pets and trainers alike, and an in-demand talent agency always looking to train and discover new stars.
Stay in touch with DogStars, join us on Facebook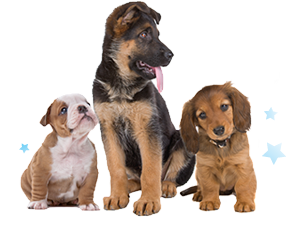 Vancouver- Tuesdays – June 4 – Bone & Bowl – Olympic Village
- Twinkle Puppy Class @ 7:00pm
- Acting level 1 @ 8:00pm
New Westminster- Wednesdays – April 24- Bosley's Columbia Square
- Twinkle Puppy Class @ 7:45pm
Abbotsford- Monday May 27- Acting Workshop – Doggie Shop – #4-33550 S. Fraser Way
Intro to Dog Acting - 5:30 - 7:00
"We learned how to communicate with our dog and have Stella listen! Everything was very clear and so informative."
Fredericka, Anton & 'Stella' – (Bull terrier – 4 months old)- Twinkle Puppy Classes
"This training is great - I have seen amazing results in a short period of time and it prepares me and Buddy for the real world! I would recommend DogStars for anyone with a new or older dog."
Sean and his 8 month old Labrador - 'Buddy'