Become a Trainer
FAQs
DogStars Professional Dog Trainers Program
What is covered during the course?
• Basic to advanced obedience – on and off leash, inside and outdoors
• Film behaviours and working in film with animals
• Basic nutrition and health concerns that may affect training
• Dog Psychology – how they think and why they behave
• Dog Body Language – what they are communicating through body postures
• Training Methodology – types of training methods and when to use them
• First aid for Animals – cats and dogs – certificate provided
• Marketing for Dog trainers
• Starting your own business
• Clicker Training
• Food motivated training
• Toy motivated training
• Dog Body Language
• Dog Breeds and characteristics
• Private and group training classes
• Client communications
• Behaviour Modification – house training, barking, jumping up, chewing and fearful dogs, aggression, and much more!
When are the courses?
Monday – Friday, 9am – 3pm for the duration of the 8 week program.
Is there a tuition payment plan available?
Yes. Please contact us for more details.
Are international students accepted?
Yes. We accept students from all over the province, country and world.
Do I need any previous experience with animals to become a trainer?
DogStars Professional Dog Trainers Program will give you the knowledge and confidence you need to start a brand new career.
What can I expect after completing the program?
You are ready to start your career as a dog trainer, either with your own business or working with DogStars. With a nationally recognized certification you are able to train anywhere. DogStars works with our graduates to connect them with clients in private and also group class settings – we have clientele in Vancouver, Burnaby, New Westminster, Coquitlam, Richmond and North Vancouver.
What are the training methods being taught?
DogStars promotes positive reinforcement and reward based training . We employ clicker training, lure training, praise and play rewards and all without the use of corrections. The safety of animals is first and foremost in our philosophy, which means no choke chains or shock collars. We aim to build a trusting relationship between trainer, owner and dog to achieve obedience and understanding. Additionally, we teach new trainers how to determine which training methods are the most effective in different situations, giving you the tools to work with a variety of clients.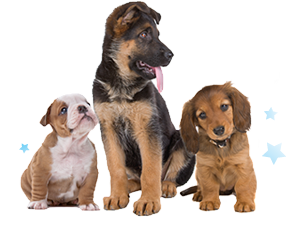 Vancouver- Tuesdays – June 4 – Bone & Bowl – Olympic Village
- Twinkle Puppy Class @ 7:00pm
- Acting level 1 @ 8:00pm
New Westminster- Wednesdays – April 24- Bosley's Columbia Square
- Twinkle Puppy Class @ 7:45pm
Abbotsford- Monday May 27- Acting Workshop – Doggie Shop – #4-33550 S. Fraser Way
Intro to Dog Acting - 5:30 - 7:00