Training Workshops – Earn CEUs from CCPDT.
FAQs
DogStars Trainers Workshops!
– What is covered during the course?
• Basic to advanced obedience – on and off leash, inside and outdoors
• Film behaviours and working in film with animals
• Basic nutrition and health concerns that may affect training
• Dog Psychology – how they think and why they behave
• Dog Body Language – what they are communicating through body postures
• Training Methodology – types of training methods and when to use them
• First aid for Animals – cats and dogs – certificate provided
• Marketing for Dog trainers
• Starting your own business
• Clicker Training
• Food motivated training
• Toy motivated training
• Dog Body Language
• Dog Breeds and characteristics
• Private and group training classes
• Client communications
• Behaviour Modification – house training, barking, jumping up, chewing and fearful dogs, aggression, and much more!
When are the courses?
Monday evenings and Saturday afternoons
Are international students accepted?
Yes. We accept attendees from all over the province, country and world.
Do I need any previous experience with animals to take one or all of the workshops?
No previous experience is necessary.
What are the training methods being taught?
DogStars promotes positive reinforcement and reward based training . We employ clicker training, lure training, praise and play rewards and all without the use of corrections. The safety of animals is first and foremost in our philosophy, which means no choke chains or shock collars. We aim to build a trusting relationship between trainer, owner and dog to achieve obedience and understanding. Additionally, we teach new trainers how to determine which training methods are the most effective in different situations, giving you the tools to work with a variety of clients.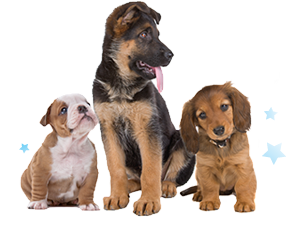 Vancouver- Mondays – April 28 – Bone & Bowl – Olympic Village
- Twinkle Puppy Class @ 7:00pm - Small pups only
- Shine level 1 Class @ 8:00pm
New Westminster- Wednesdays – April 16 – Bosley's Columbia Square
- Twinkle Puppy Class @ 7:30pm
Vancouver- Tuesdays May 13 – Bone & Bowl – Olympic Village
- Twinkle Puppy Class @ 7:00pm - Star Acting level 1 Class @ 8:00pm
Pet First Aid Course – April 27- Yaletown
Learn essential first aid - Walks and Wags most comprehensive 10 hour first aid program. $149 pp. Bring a friend and receive $10 off each! Space is limited - register now to avoid disappointment.
"Georgina is a fantasic trainer and I recommend her services."
Veternarian Recommended Dr. Spooner of Yaletown Pet Hospital
"We learned how to communicate with our dog and have Stella listen! Everything was very clear and so informative."
Fredericka, Anton & 'Stella' – (Bull terrier – 4 months old)- Twinkle Puppy Classes