About DogStars
Georgina Bradley: Top Dog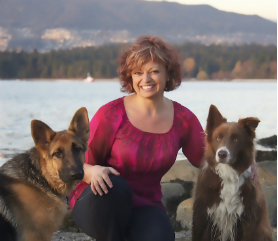 Georgina Bradley is a certified professional dog trainer – KA # 2112796, by the Certification Council of Professional Dog Trainers. She is the backbone of DogStars. She is both the owner and head trainer, bringing her 30+ years of animal experience and passion to everything she does.
The Road to Success
Georgina began her career with animals as a professional veterinary assistant and technician, working in the field for over 20 years. In 1990, she began looking for a way to work with pets and their owners outside of the vet's office, and discovered her love of animal training. She attended a PCTIA accredited school and began her career as a certified dog trainer. Georgina is a professional member of the APDT (Association of Pet Dog Trainers) and the CAPPDT (Canadian Association of Professional Pet Dog Trainers) and gives back to her field by teaching the next generation of professional dog trainers. With DogStars Professional Trainers Program
Branching Out
Over time, Georgina developed her own approach to training, with animal safety and communication, understanding and trust being of the utmost importance. Her philosophy translated into DogStars in 1995. She joined the Film Industry Animal Trainers Union, Local 155 and began her work in film and television that same year. Since then, Georgina's been sharing her positive approach and enthusiasm with all of her clients, from pet owners to big budget movie producers.
Giving Back
Owning and operating a successful training business was not enough for Georgina. In 1998, she began working with the Vancouver Police Department K-9 unit, as a quarry. She helped the department with service dog training, assisting the unit in tracking and apprehending criminals. Her contribution to Vancouver continued to grow and Georgina began volunteering with BC Pets and Friends Therapy dog program in 2000.
DogStars On Top
Georgina Bradley was nominated for Entrepreneur of the Year in 2005, and rightly so. Her original vision of sharing her training knowledge has reshaped itself time and time again, from training animals, to creating a training academy for four legged and two legged friends, and from training on set for films and television, to creating her very own DogStars Talent Agency. With her imagination and determination, one can only guess what the next step will be.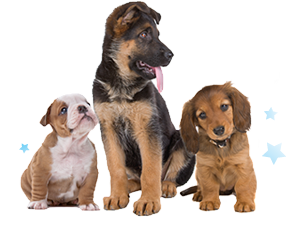 Vancouver- Tuesdays – June 4 – Bone & Bowl – Olympic Village
- Twinkle Puppy Class @ 7:00pm
- Acting level 1 @ 8:00pm
New Westminster- Wednesdays – April 24- Bosley's Columbia Square
- Twinkle Puppy Class @ 7:45pm
Abbotsford- Monday May 27- Acting Workshop – Doggie Shop – #4-33550 S. Fraser Way
Intro to Dog Acting - 5:30 - 7:00
"We learned how to communicate with our dog and have Stella listen! Everything was very clear and so informative."
Fredericka, Anton & 'Stella' – (Bull terrier – 4 months old)- Twinkle Puppy Classes
"This training is great - I have seen amazing results in a short period of time and it prepares me and Buddy for the real world! I would recommend DogStars for anyone with a new or older dog."
Sean and his 8 month old Labrador - 'Buddy'