DogStars Star Program: Star Training Classes
Click Here to see our upcoming classes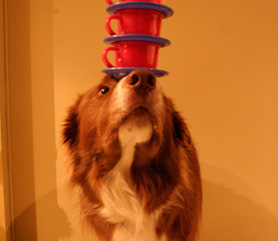 DogStars has been a part of the movie and television industry since 1995. Not only do we recognize talent when we see it, we also actively train animals to be stars. Our Star I and Star II programs will put your pet on the path to stardom. To be ready for auditions, just like acting for humans, training is an asset.
We also introduce clicker training as part of the positive reward system behind our training methods, as a clean and quick way to have your animal perform on set.
DogStars provides the necessary animal acting training to achieve your dreams, we also place all our graduates into our DogStars Talent Agency. After all we want them working for us!
Star I
Star Level 1 is a 6 week course, focusing on 3-5 behaviours per class, including:
Hitting a designated mark
Attention training: keeping your dog focused and performing
Waving and shaking a paw
Roll over
Wipe their face ( so cute! )
Taking a bow
Shake head
Lick lips / give kisses
And much, much more…
$295/ 5 Weeks
Star II
Star Level 2 builds and expands on the work done in Star Level 1, introducing new and more complex behaviours, including:
Hitting consecutive designated marks
Work aways: teaching your dog to listen to commands while you or the trainer are out of sight; having your dog move away from the trainer, while still able to perform the called for behaviour
Bark on command / Quiet on request
Eyeline and attention work with increased distraction
Target training
Back up
And much, much more…
Successful completion of Star I is a prerequisite for Star II registration.
$295 / 5 Weeks