Training Workshops – Earn CEUs from CCPDT.
Graduates
Learning from an expert trainer is essential. Georgina is that expert – I learned from the best!
Karen Fraser – Vancouver BC
This program covered exactly what I wanted to learn. I have started my own business and classes are so much fun to teach.
Elizabeth MacDonald – White Rock BC
I had a great time learning how to train dogs and to communicate with the people who own them.
Daniella Dym – Burnaby BC
So much to learn and taught so well by the team of instructors
Dulcy Perversoff – Chilliwack BC
Incredible program. I would recommend anyone wanting to pursue this career to take this course with confidence. I learned so much and have applied the techniques easily and they work.
Mandarin MacLeod – Vernon BC
Great course – so much is covered and I learned to help my own dog and others with similar concerns. Now teaching private sessions for clients and loving my new career
Casey Parish- North Vancouver BC
DogStars program met my goals and helped prepare me to work with clients right away. Hands on work with my own dog and then with clientele shaped my skills quickly. I enjoyed learning to read canine body language, my knowledge has expanded to comprehend what the dog is thinking during the training process. This is an essential point to create a foundation for dog trainers.
Elvina Meret- Vancouver BC
Very Satisfied overall with DogStars Program. It definitely met my goals to be trained as a one-on-one problem solver for clients. I have a very good understanding of what the dog is saying by it's body language and how to train any dog.
Bonnie Oleksiuk- Langley BC
I now have a more clear understanding of behavioral issues and what types of training methods to use when training dogs. I feel prepared to work with clients and their animals. The course was thoroughly enjoyable!
Gord Field – Richmond BC
I was very impressed with the knowledge of instructors and content of the program. The training techniques are explained and demonstrated clearly. Being able to work with different dogs during the program was excellent. Learning about animal behavior and how to get that loose leash feeling was very useful. Very affordable and accessible course.
Tara Tower – Vancouver BC
DogStars Program exceeded my expectations! I did a lot of research …and feel that this one is great value for money and provides the much needed hands-on dog training experience that on-line courses can't offer. This program gave me confidence in taking on clients. Going on actual training sessions with our instructor was priceless!
Saffrina Welch – Vancouver BC
Great Program! I would recommend this to anyone interested in a career as a dog trainer. I feel confident in addressing peoples training needs, run group classes and deal with anything in between.
James Sztyler – Vancouver BC
It is so easy to apply the training to working with client! Very positive methodology, approach and positive instructor.
Yvonne Loppnau – Chilliwack BC
DogStars Programs were great – I really enjoyed it and got a lot of benefit from all the hands on work the dogs. The workshops were very informative. It met my expectations and was better than I had hoped!
Craig McDowell – Port Moody BC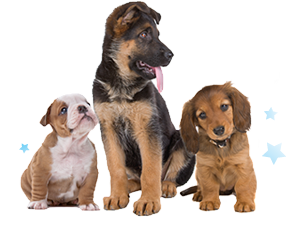 Vancouver- Mondays – April 28 – Bone & Bowl – Olympic Village
- Twinkle Puppy Class @ 7:00pm - Small pups only
- Shine level 1 Class @ 8:00pm
New Westminster- Wednesdays – April 16 – Bosley's Columbia Square
- Twinkle Puppy Class @ 7:30pm
Vancouver- Tuesdays May 13 – Bone & Bowl – Olympic Village
- Twinkle Puppy Class @ 7:00pm - Star Acting level 1 Class @ 8:00pm
Pet First Aid Course – April 27- Yaletown
Learn essential first aid - Walks and Wags most comprehensive 10 hour first aid program. $149 pp. Bring a friend and receive $10 off each! Space is limited - register now to avoid disappointment.